Introduction
Air Traffic Flow Management (ATFM) is the collaborative process of managing air traffic flow into constrained or congested airspace or airport to ensure appropriate balance between air traffic demand and Air Traffic Service (ATS) capacity. The ATS capacity in a given location is determined through an analytical process taking into account, inter alia, geographical characteristics and limitations, Air Traffic Controllers' procedures and workload, and navigation and surveillance capabilities.

The key objective of an ATFM process is to manage the amount of traffic within the area of responsibility (airspace or airport) to ensure a smooth flow of flights and a balance between traffic demand and capacity, while maintaining the highest level of safety and benefits to all stakeholders involved.
There are many different ATFM solutions that can be used depending on situations and necessities. All ATFM solutions are generally carried out across 3 phases of operations:
 
Strategic ATFM Phase: This phase focuses on long-term planning to strategically balance demand and capacity while reducing adverse and unplanned effects on stakeholders during the actual operations. Solutions in this phase are strategic in nature, such as schedule adjustment through Airport Slot Coordination process or rostering adjustment in preparation for a special planned event, and are implemented more than 7 days before flight
Pre-Tactical ATFM Phase: This phase focuses on pre-operations planning for demand-capacity balancing based on updated demand and capacity information. The main objective of this phase is to communicate planned ATFM measures that will likely be used on the day of operations through an ATFM Daily Plan (ADP) and/or other means of notification. By distributing the plan in advance, stakeholders can prepare their operational plans accordingly. This phase is carried out 1 – 7 days before flight
Tactical ATFM Phase: This phase focuses on using tactical ATFM measures to balance traffic demand with actual available capacity on the day of operations, taking into account real-time situations such as weather and unforeseen disruptions. Several tactical ATFM measures are available to adjust traffic demand level, e.g. Ground Delay Program with the issuance of Calculated Take-Off Times, Minimum Departure Intervals or Miles-in-Trail.

The various ATFM solutions, implemented in different phases described above, are suitable for different scenarios. For every solution in every ATFM phase, however, it is important that the process is a collaborative one involving all stakeholders under the spirit of Collaborative Decision Making (CDM) to ensure highest benefits and minimum negative impacts on all stakeholders.
Benefits of ATFM
The benefits of ATFM are abundant and are categorized here into operational and societal benefits.
Operational Benefits
Enhanced Air Traffic Management (ATM) safety;
Reduced fuel burn and operating costs due to the increased predictability;
Effective management of irregular operations and effective mitigation of unforeseen constraints and consequences, enabling continuous service at the highest level.
Societal Benefits
Improved quality of air travel
Increased economic development through capability to handle projected traffic growth
Reduced aviation-related greenhouse gas emissions;
• Mitigation of the effects of unforeseen events and capacity, enabling coordinated recovery and assurance of continuous availability of air transportation.
Additional information about ATFM and the ATFM process can be found in ICAO Manual on Collaborative Air Traffic Flow Management (Doc 9971).
Qaulity Policy for Air Traffic Flow Mangement Services
ATFM Services proviced by AEROTHAI shall help facilitate safe, orderly, and expeditious flow of air traffic by ensuring, in the most efficient manner, the balance between air traffic demand and available ATC capacity within the areas of responsibility through the use of well-planned ATFM solutions taking into account all operational aspects
AEROTHAI and Cross-Border ATFM Initiatives
AEROTHAI has been actively engaged in 2 major cross-border ATFM initiatives over the years, including: the Bay of Bengal Cooperative ATFM System (BOBCAT) service, and the Asia-Pacific Cross-Border Multi-Nodal ATFM Collaboration (AMNAC). Involvements in these 2 initiatives have made AEROTHAI one of the leading Air Navigation Service Providers (ANSPs) in ATFM in the Asia-Pacific region.
 
Bay of Bengal Cooperative ATFM System (BOBCAT)
The airspace over Afghanistan, Kabul FIR, is an important airspace that sits between Asia-Pacific and Europe, serving as the pathway for flights operating between the two regions. However, due to geographical limitations, political challenges, lower navigation and surveillance capabilities, and limited ATS provision capabilities, Kabul FIR remains one of the more congested airspace with limited number of operating routes and flight levels despite the high traffic volume. ICAO has thus tasked AEROTHAI with the development of ATFM system and procedure to mitigate the effect of constraints within this airspace. AEROTHAI, in collaboration with ICAO Asia-Pacific ATFM Steering Group, has since developed the Bay of Bengal Cooperative ATFM System (BOBCAT) to provide the ATFM service starting in 2007 until today.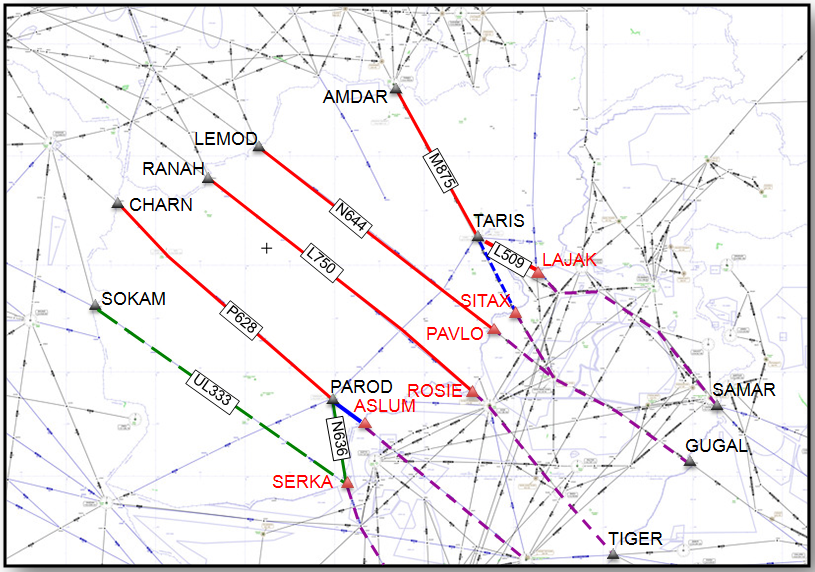 BOBCAT is a system that calculates and assigns Calculated Take-Off Time (CTOT) to flights intending to fly from Asia-Pacific through Kabul FIR into Europe during the peak period (2000 – 2359 UTC). By managing flight times through CTOT, BOBCAT is able to help decongest Kabul FIR during peak traffic hours and to aid flights in achieving optimum flight levels and minimally interrupted cruises. This system has since helped airlines in saving more than 110 million kilograms of fuel burn and more than US$ 110 million (approximately THB 4 billion), thus putting AEROTHAI at the forefront of cross-border ATFM operations.
 
Asia-Pacific Cross-Border Multi-Nodal ATFM Collaboration (AMNAC)
In recent years, Asia-Pacific has seen steady and rapid growth of air traffic, with analysis showing nearly half of global air travel passengers flying between destinations within the region. With this explosive growth in traffic demand; cross-border ATFM process, especially one that is suitable for handling a large number of short-haul intra-regional flights, is of paramount importance. Several leading ANSPs in the region including AEROTHAI, Civil Aviation Authority of Singapore (CAAS), Civil Aviation Administration of China – Air Traffic Management Bureau (CAAC ATMB) and Hong Kong Civil Aviation Department (HKCAD) as well as international organizations including IATA, ICAO, and CANSO have thus embarked on developing a new cross-border ATFM concept that would be viable for the region when considering geographical, societal, and political characteristics. This concept, the Distributed Multi-Nodal ATFM Network, gives States / ANSPs responsibilities to independently manage demand-capacity balance within their own area of responsibilities (airspace / airports) while keeping aligned with common principles and operating procedure when implementing ATFM measures. Each State / ANSP, along with local stakeholders, are grouped together as an ATFM Node that connects to other ATFM Nodes through reliable and efficient ATFM information exchange network. This ensures full information flow between stakeholders, which is a key enabler for cross-border ATFM.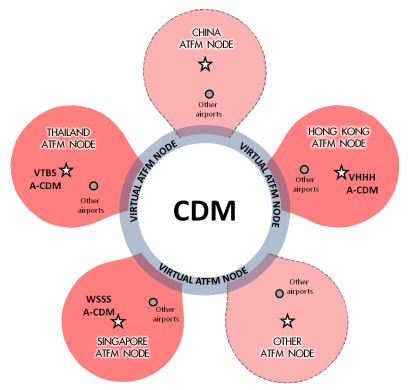 The Distributed Multi-Nodal ATFM Network concept has been adopted by Asia-Pacific States as the foundation for regional cross-border ATFM implementation. AEROTHAI and partner ANSPs mentioned above thus initiated a project to further develop, validate, and operationally implement the concept for the region. The project, named Asia-Pacific Cross-Border Multi-Nodal ATFM Collaboration (AMNAC), has been ongoing since June 2015 with proven success especially in many capacity constraining situations in the region. Demonstrated benefits include enhanced regional traffic flow efficiency, reduced ATC workload, and improved safety even in an adverse operating environment.

AEROTHAI serves as one of the leading ANSPs in this project, with representatives serving on the Project Core Team driving the work since the very beginning. This is another role AEROTHAI plays as one of the ATFM leaders in the Asia-Pacific region.