Home
Lastest News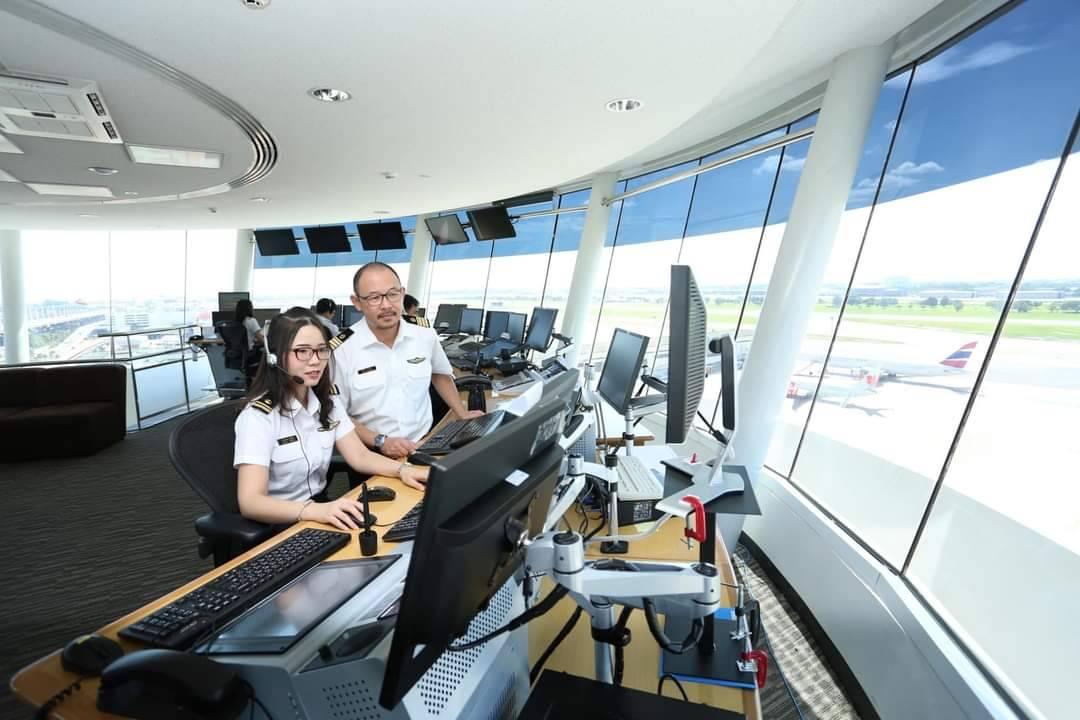 15 Jan 21

- The COVID-19 has caused a decrease in air transport throughout the world, while the International Air Transport Association (IATA) evaluated global passengers declined by 50-60% last year. Thailand has also faced a slowdown in aviation sector.
30 Oct 20

- AEROTHAI held the Meeting for Type-B Shareholders on 30 October 2020 at ABC Conference Room,  Head Office, to inform them the annual corporate performance, flight numbers, financial status, the...

11 Sep 20

- Mr. Thaworn Senneam, Deputy Minister of Transport together with his working team visited Betong Airport in Yala province to explore its readiness on 11 September 2020. On this occasion AEROTHAI's...

10 Sep 20

- Aeronautical Radio of Thailand Ltd. (AEROTHAI) has been rated "AAA/Stable" by TRIS Rating, which reflects its good safety record, strong financial status, and experienced management team. TRIS Rating...

24 Aug 20

- Mr. Thaworn Senneam, Deputy Minister of Transport, visited the U-Tapao International Airport on 24 August 2020 to observe the progress of the U-Tapao Airport and the Eastern Airport City Project....
Flight statistic per day
As of 27/01/2021 during 00:00-23:59 UTC
Suvarnabhumi

244

Don muang

146

Phitsanulok

46

Nakhon Ratchasima

33

Nakhon Sawan/Takhli (Military)

33

Sukhothai

29

Chiang Mai

29

Udonthani

25

Khon Kaen

25

Bangkok FIR

771
More statistics >>
[X]

Flight statistic per day

As of 27/01/2021 during 00:00-23:59 UTC

Suvarnabhumi

244

Don muang

146

Phitsanulok

46

Nakhon Sawan/Takhli (Military)

33

Nakhon Ratchasima

33

Sukhothai

29

Chiang Mai

29

Khon Kaen

25

Udonthani

25

Bangkok FIR

771

Flight statistic per day

As of 26/01/2021 during 00:00-23:59 UTC

Suvarnabhumi

231

Don muang

123

Nakhon Sawan/Takhli (Military)

40

Nakhon Ratchasima

38

Phitsanulok

34

Chiang Mai

33

Prachuap Khiri Khan/Hua Hin

30

Udonthani

27

Nakhon Pathom /Kamphaeng Saen (Military)

26

Bangkok FIR

774

Flight statistic per day

As of 25/01/2021 during 00:00-23:59 UTC

Suvarnabhumi

189

Don muang

143

Nakhon Ratchasima

45

Nakhon Sawan/Takhli (Military)

38

Phitsanulok

29

Nakhon Si Thamarat

27

Khon Kaen

26

Lopburi/Khok Kathiam Airport (Military)

25

Udonthani

25

Bangkok FIR

700

Flight statistic per day

As of 24/01/2021 during 00:00-23:59 UTC

Suvarnabhumi

224

Don muang

140

Phuket

33

Chiang Mai

29

Phitsanulok

20

Nakhon Si Thamarat

19

Nakhon Sawan

16

Songkhla/Hat Yai

16

Nan

16

Bangkok FIR

566

Flight statistic per day

As of 23/01/2021 during 00:00-23:59 UTC

Suvarnabhumi

251

Don muang

110

Phuket

28

Chiang Mai

23

Phitsanulok

23

Sukhothai

22

Nakhon Si Thamarat

21

Songkhla/Hat Yai

16

Roi Et

14

Bangkok FIR

615

Flight statistic per day

As of 22/01/2021 during 00:00-23:59 UTC

Suvarnabhumi

255

Don muang

169

Phitsanulok

38

Chiang Mai

36

Phuket

27

Udonthani

23

Sukhothai

22

Songkhla/Hat Yai

22

Nakhon Si Thamarat

21

Bangkok FIR

755

Flight statistic per day

As of 21/01/2021 during 00:00-23:59 UTC

Suvarnabhumi

245

Don muang

149

Phitsanulok

37

Chiang Mai

32

Prachuap Khiri Khan/Hua Hin

26

Nakhon Ratchasima

24

Songkhla/Hat Yai

23

Nakhon Si Thamarat

22

Udonthani

21

Bangkok FIR

807