Home
Lastest News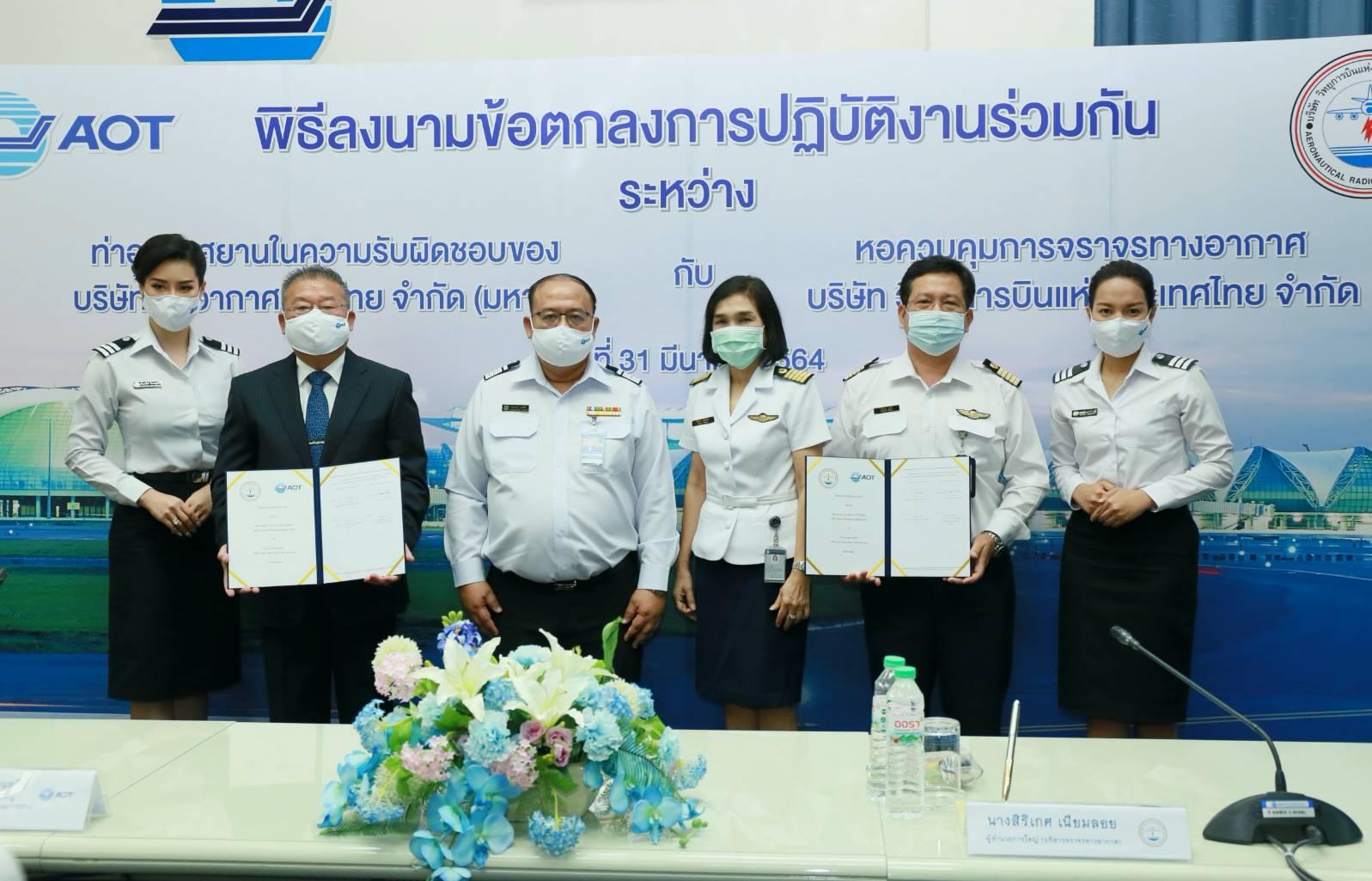 31 Mar 21

- On​ 31​March​ 2021​ the​ ​Ageement​ between​ AEROTHAI​ and​ Airport​s​ of​ Thailand​ (AOT)​ was​ signed​ by​  Mrs.​ Sirikes Niemloy, Vice​ President​ (Air​ Traffic​ Management​), Mr.​ Chumnan Reuchai, Vice​ President ​(Provincial​ and​ Facilities​ Administration), AEROTHAI​ and​ AOT​ Airport​ ​Manag
03 Mar 21

- On​ 3​ March 2021​ Mr.​ Tinnagorn​ Choowong, Executive​ Vice​ President​ of​ AEROTHAI​ and​ RAdm.​ Surachai Charoenrob, Commander of​ the​ Royal Thai​ Naval Air​ Division​ jointly​ signed​ the​...

15 Jan 21

- The COVID-19 has caused a decrease in air transport throughout the world, while the International Air Transport Association (IATA) evaluated global passengers declined by 50-60% last year. Thailand...

30 Oct 20

- AEROTHAI held the Meeting for Type-B Shareholders on 30 October 2020 at ABC Conference Room,  Head Office, to inform them the annual corporate performance, flight numbers, financial status, the...

11 Sep 20

- Mr. Thaworn Senneam, Deputy Minister of Transport together with his working team visited Betong Airport in Yala province to explore its readiness on 11 September 2020. On this occasion AEROTHAI's...
Flight statistic per day
As of 18/04/2021 during 00:00-23:59 UTC
Suvarnabhumi

429

Don muang

371

Phuket

114

Chiang Mai

110

Songkhla/Hat Yai

79

Nakhon Si Thamarat

52

Udonthani

48

Chiang Rai

38

Surathani/Samui

36

Bangkok FIR

1,006
More statistics >>
[X]

Flight statistic per day

As of 18/04/2021 during 00:00-23:59 UTC

Suvarnabhumi

429

Don muang

371

Phuket

114

Chiang Mai

110

Songkhla/Hat Yai

79

Nakhon Si Thamarat

52

Udonthani

48

Chiang Rai

38

Surathani/Samui

36

Bangkok FIR

1,006

Flight statistic per day

As of 17/04/2021 during 00:00-23:59 UTC

Suvarnabhumi

446

Don muang

365

Phuket

118

Chiang Mai

105

Songkhla/Hat Yai

80

Nakhon Si Thamarat

48

Surathani/Samui

45

Udonthani

40

Khon Kaen

36

Bangkok FIR

1,037

Flight statistic per day

As of 16/04/2021 during 00:00-23:59 UTC

Suvarnabhumi

407

Don muang

367

Phuket

117

Chiang Mai

109

Songkhla/Hat Yai

77

Udonthani

51

Nakhon Si Thamarat

51

Khon Kaen

40

Surathani/Samui

40

Bangkok FIR

1,057

Flight statistic per day

As of 15/04/2021 during 00:00-23:59 UTC

Suvarnabhumi

450

Don muang

362

Chiang Mai

116

Phuket

115

Songkhla/Hat Yai

80

Nakhon Si Thamarat

58

Udonthani

47

Surathani/Samui

47

Khon Kaen

39

Bangkok FIR

1,058

Flight statistic per day

As of 14/04/2021 during 00:00-23:59 UTC

Suvarnabhumi

465

Don muang

345

Phuket

117

Chiang Mai

115

Songkhla/Hat Yai

79

Nakhon Si Thamarat

51

Udonthani

48

Surathani/Samui

46

Chiang Rai

40

Bangkok FIR

1,020

Flight statistic per day

As of 13/04/2021 during 00:00-23:59 UTC

Suvarnabhumi

441

Don muang

352

Chiang Mai

117

Phuket

106

Songkhla/Hat Yai

79

Nakhon Si Thamarat

58

Udonthani

44

Surathani/Samui

38

Chiang Rai

36

Bangkok FIR

1,033

Flight statistic per day

As of 12/04/2021 during 00:00-23:59 UTC

Suvarnabhumi

444

Don muang

382

Chiang Mai

122

Phuket

115

Songkhla/Hat Yai

90

Nakhon Si Thamarat

59

Udonthani

47

Khon Kaen

44

Chiang Rai

42

Bangkok FIR

1,093