1. Introduction 
1.1 Asia-Pacific is one of the fastest-growing aviation regions and has been experiencing rapid and sustained increase in air traffic demand, especially the intra-regional flights, for a number of years. This puts heavy load on various air navigation service resources – airports and airspace sectors – that are already operating at or near maximum capacity. When situations such as adverse weather or closures result in capacity reduction, ANSPs traditionally impose conventional flow restrictions such as larger in-trail separations to regulate inbound air traffic flow, though such measures often result in negative impact on operations, produce a "knock on effect" over multiple FIRs, and seldom solve the problems faced.

1.2 Recognizing the region's needs for a better means to collaboratively handle the large traffic demand at constrained resources, and also understanding the geopolitical environment of Asia-Pacific; Hong Kong China, Singapore, and Thailand seeded the idea of a networked collaborative decision making (CDM) framework that could support the implementation of cross-border air traffic flow management (ATFM) in the region. The seed was further developed into a concept of Distributed Multi-Nodal ATFM Network and was endorsed by the regional ICAO ATFM Steering Group as a viable foundation for cross-border ATFM in the region.
 
2. Concept of Operations
2.1 The Distributed Multi-Nodal ATFM Network concept is based on a network of ANSPs leading independent ATFM operations within their domain and connected to other ANSPs and stakeholders through effective information sharing mechanism. This can be established with 2 operational bases:
(1) Common Operating Procedure –  common ATFM operational guidelines and procedures, detailing responsibilities to be borne by ANSPs and stakeholders involved; and
(2) Interconnected Information Sharing Framework – a fully interconnected information sharing mechanism or protocols between stakeholders that ensure efficient communication of ATFM information. This could be anything ranging from e-mails and AFTN messages to automated system-to-system information sharing based on System-Wide Information Management (SWIM) concept.
2.2 Through these operational bases, an ANSP can independently implement ATFM measure to regulate both domestic and international traffic into constrained resources, while other ANSPs and stakeholders in the network can effectively comply with the measure by following the Common Operating Procedure developed. Additionally, an effective communication and information sharing framework allows stakeholders to be involved in the decision-making process every step of the way.
2.3 Figure 1 shows a graphical representation of the operational environment under this concept. In this environment; an Arrival ATFM Unit (Arrival ATFMU) responsible for the constrained resource would implement and publish ATFM measure(s) on a cloud-based information sharing network, while the Departure ATFMU and relevant stakeholders subscribes or receives the information and adjust their operations accordingly. The information sharing network also allows for collaborative decision making (CDM) process to take place between all relevant parties during the operations.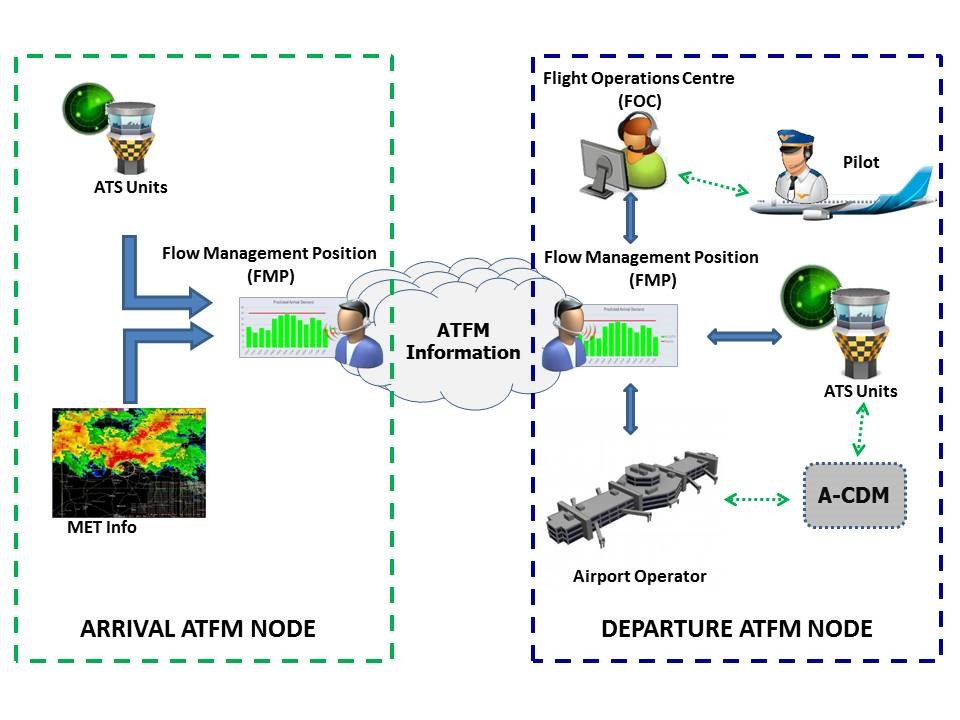 Figure 1 - Distributed Multi-Nodal ATFM Network Operational Environment
 
3.Operational Trial Timeline
3.1 Following concept development led by Hong Kong China, Singapore, and Thailand with other industry partners, an Operational Trial project was established in 2014 aiming to develop and validate the Common Operating Procedure as well as to introduce the use of Distributed ATFM programs in regulating air traffic flow between constrained resources in the region.
ATFM Measure Explored
3.2 The main ATFM measure explored during this project to regulate traffic at the constrained ATM resources is Ground Delay Program (GDP) through provisions of Calculated Take-Off Time (CTOT). Additionally the concept of combining different ATFM measures such as Minimum Departure Intervals (MDI) with GDP, when GDP participation does not constitute majority of affected traffic, is also being explored. The key reason for using other measures is when there is a need to include long-haul inbound flights (e.g. those from other regions) into the ATFM program for it to be effective.
Project Participation
3.3 Since the inception of the project, many Asia-Pacific States have joined the activities. These include, apart from the original three, Cambodia, China, Indonesia, Lao PDR, Malaysia, the Philippines, and Viet Nam; with Australia lending their expertise as an advisor to the project. CANSO and IATA have also supported the project from the inception. Recognizing States' different ATFM capabilities and readiness; the project adopted a multi-tiered participation level shown in Table 1. This allows members to join the project as and when they are ready, at an appropriate level, and able to plan for capability upgrade along the way.

Project Plan
3.4 The project split the development and implementation into 2 main phases to allow incremental approach to the implementation of ATFM in the region. States are encouraged to join the network as and when they are ready. Table 2 shows the 2 main phases in the project.

Phase 1 Plan, Progress, and Contributions
3.5 Phase 1 of the project, with a focus on regulating traffic into constrained arrival airports, took place in 2015 – 2016 and followed a stage approach as shown in Table 3.

3.6 Beginning in the late-2016, the project had progressed to Stage 3 and operational ATFM measure – GDP/CTOT – began to be used to regulate traffic flows into live constrained airports. The implementation of live operations started from planned events such as special airport closures during Singapore's National Day Parade and Thailand's Royal Thai Air Force Special Air Display, and expanded into ad-hoc events such as traffic surge and inclement weather conditions in Singapore. Most recently, GDP/CTOT were also implemented in response to emergency situations in Singapore (fire in the terminal), Hong Kong (aircraft accident and runway outage), and Thailand (fire in the terminal). During all the operations, originating ATFMUs distribute ATFM information, including CTOT, through agreed communication channels. The management and discussion of CTOTs assigned were done with close coordination between all stakeholders.
3.7 The success of initial rounds of distributed ATFM operations in the region shows the potential of the Distributed Multi-Nodal ATFM Network concept to be fully implemented and scaled for global interoperability. However, the work is far from being done in Phase 1, with a significant room for improvement in project participation and ATFM measure compliance. The project will continue to expand the operations and garner support from stakeholders in the Asia-Pacific region, to ensure high ATFM measure compliance rate whenever a program is put in place. Stakeholder engagement, outreach campaign, and educational partnerships all form part of the effort going forward.
Phase 2 Plan and Progress
3.8 Phase 2 of the project, with a focus on regulating traffic into constrained airspace sectors, is planned for 2017 and beyond with a similar stage approach as shown in Table 4.

3.9 Phase 2 will present a unique challenge to the project, with potential for more complicated scenarios such as competing ATFM measures as flights transit through multiple airspace sectors and FIRs across the region. The guiding principle for this phase of the project will be to ensure that the various ATFM measures implemented can help creating the smooth and optimized traffic flow throughout the network, without adversely affecting flight operations.
4. Technical Challenge and the Technical Subgroup
Technical Challenge to Implementation
4.1 One key difference between the Distributed Multi-Nodal ATFM Network concept used in this project and the Centralized Regional ATFM Unit used in Europe is the absence of a single ATFM unit overseeing the entire region with a single technical support tool. The distributed concept provides ANSPs in the network with independence in terms of ATFM support system developed or procured. However, for operational efficiency, all the differing systems must be able to connect and exchange information efficiently to one another. This system-to-system linkage has been one major challenge for the project. Throughout Phase 1 of the Operational Trial, stakeholders have been asked to access various ATFM systems with different interfaces depending on the unit responsible for the program implemented. In the long run, this is not a viable and scalable solution especially for airspace users with flights operating from many different countries and potentially simultaneous ATFM programs in place.
The Technical Subgroup
4.2 To address the challenge, the project set up a Technical Subgroup comprising technical leads from core ANSPs to fulfill the job of writing up Interface Control Document (ICD). The ICD will specify how different ATFM systems would connect and exchange information to allow stakeholders to access any ATFM system and be able to see the entire network's ATFM statuses. Additionally, the group will also chart a development roadmap – from system specification to testing and implementation – to enable such linkage between core ANSPs in the project.
4.3 The work of this group will also be used to influence the development of System-Wide Information Management (SWIM) framework – a framework established to shift conventional point-to-point information communication to more efficient and expandable service-oriented network communication. Distributed cross-border ATFM operations stands to benefit greatly from this new paradigm of communication, and thus the Technical Subgroup has been keeping abreast of the development in this field. It is important to ensure that the development will enable ATFM systems across the globe to efficiently exchange information, thus allowing for globally-interconnected ATFM network.
5. Path Forward
5.1 The project is at a juncture where Distributed Airport ATFM Programs have been tested and are moving towards implementation, while at the same time starting to chart the path towards more complex Distributed Airspace ATFM Programs. The project will continue to evolve and explore different ATFM measures – including combination between several ATFM measures – to handle the complexities arising from both airspace and airport disruptions. The project will also continue to share its lessons learned at appropriate forums and continue widening its scope to include more members in the network. The ultimate aim is to enable the concept to be fully-implemented in Asia-Pacific and allow for global interoperability with other regions in the world.